Illawarra community speaks again: Stop Coal Seam Gas!
Over 500 people attended the Coal Seam Gas Community Conference on Sunday 25 March 2012, held in Wollongong Town Hall.
Conference Opening
The day started with a Welcome to Country by Mark Bloxsome and Lyle Davis, both Yuin men. Mark described coal seam gas as the greatest environmental challenge we've seen for years because 'water is the source of all life'. Wollongong Lord Mayor, Gordon Bradbery, then welcomed everyone to the city's Town Hall, which council provided free of charge for the event. Gordon noted Wollongong Council's strong support for the campaign including their motion to urge the NSW government to rule out CSG mining in the region's water catchments.
Keynote Speakers
Attendees then heard from keynote speakers Jess Moore, Stop CSG Illawarra (SCSGI) spokesperson; Steven Pells, hydrologist and hydrogeologist; and Mark Ogge, strategic director of Beyond Zero Emissions. Jess explained the general risks of coal seam gas extraction and SCSGI's demands for an immediate moratorium on the industry until the outcome of a Royal Commission, and a ban on fracking. Steven explained how the depressurisation of coal seams, which is inherent to CSG mining, can impact negatively on water systems. Mark provided an overview of the expansion of the CSG industry, and explained that, largely due to fugitive methane emissions, gas cannot be considered as a 'clean energy' alternative. He also explained the damaging impact the mining boom is having on other economic sectors, particularly manufacturing, tourism, education and agriculture.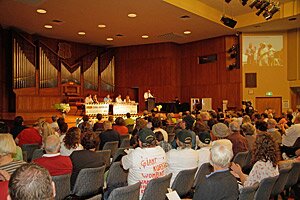 Jess Moore then reported on the achievements of the community campaign to stop CSG. These include the NSW government's promises to ban BTEX chemicals from the drilling process and to ban evaporation ponds, and the NSW ALP's policy change to now support an immediate moratorium on all CSG exploration projects in the state. While inadequate, these achievements reflect the strength of the growing campaign, explained Jess.
Afternoon workshops
After a lunch break, a number of workshops were held to transfer information to attendees looking to learn more about CSG mining, as well as build confidence and skills that increase the capacity of our campaign. The workshop 'Community blockading: know your rights', was attended by over 100 people. Other workshops, 'CSG 101′, 'The CSG sign walk: how to build the campaign's profile' and 'Building the campaign in your local area' were also popular, with many people signing up to get more involved.
Campaign update and resolutions
In the afternoon, participants gathered to discuss the next steps for SCSGI. After a campaign update and lively discussion, the following resolutions were voted on unanimously by the conference:
That Stop CSG Illawarra:
Strongly promote the April 14 fundraiser Rock to Stop CSG;
Mobilise our supporters for the May 1 rally outside NSW Parliament House, spearheaded by the farmers, to oppose the government's draft Strategic Regional Land Use Policy;
Maintains our existing suburban organising and expands our reach into new areas with letterboxing, doorknocking, community stalls, film screenings etc;
Considers options for our next major local action, including the possibility of participating in the Lock The Gate national day of action, in September 2012;
Calls on the University of Wollongong to declare publicly on its website any research it's carrying out on behalf of the CSG industry;
Pursues using the inspiring 'Walk for Water' video as a community service announcement on TV;
Calls on national and state funding bodies to fund more research into the mental and physical well being impacts of the CSG industry.
Council and parliamentary attendees
Several elected members of local council and parliament were present including Wollongong Lord Mayor Gordon Bradbery; Wollongong City Councilors Greg Petty, George Takacs and Jill Merrin; member for Keira Ryan Park; member for Throsby Stephen Jones, member for Hughes Craig Kelly, and member for Cunningham Sharon Bird. Also present were representatives on behalf of member for Heathcote Lee Evans and Senator Concetta Fierravanti-Wells.
CSG poster competition
There were six winners declared in the CSG poster competition, all of whom will be sent Stop CSG tshirts or other prizes. Thank you to all entrants!
A community united
Participants, who were also treated to inspiring video presentations throughout the day, made it very clear that this community is committed to escalating the campaign to stop CSG. It was felt that, in light of the NSW government's relentless ongoing support for the CSG industry, this community will do what it takes to defend our water, health and environment. When communities work together and act together, there's nothing more powerful.
Thank you to all the SCSGI volunteers who ensured the conference ran smoothly and professionally. And a HUGE thank you to all the community participants: your attendance ensured the conference was yet another important mark in our campaign to STOP CSG.
For more great images of the day, check out SCSGI members' Jaime Plaza's photos and Michael O'Brien's photos of the conference. Coverage from WIN TV below.