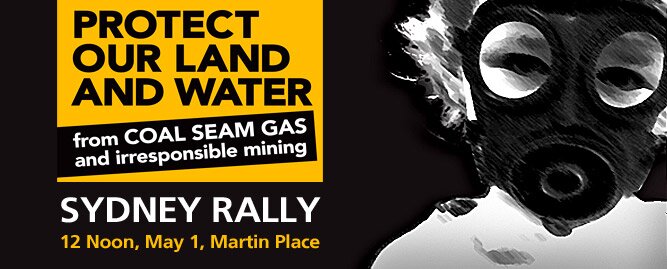 Thousands rally against CSG and irresponsible mining
Around 200 people from the Illawarra – many wearing our iconic Stop CSG tshirts and bearing placards – joined thousands of others from across NSW on May 1 for the Protect our Land and Water rally.
Organisers estimated 8,000 people were present at the huge rally that marched on NSW Parliament House in Sydney's Macquarie Street (an astounding turnout for a weekday). The rally was a protest against the NSW Government's draft Strategic Regional Land Use Plans.
Our members from Stop CSG Illawarra were joined by numerous other Lock The Gate affiliates from across the state too. The action was inspiring and powerful. It sent a clear message to the O'Farrell government that the draft plans regarding land use are a betrayal of their election promise to protect water, agriculture and the environment from CSG. When city and country unite in such spectacular fashion, it's impossible to ignore.
Congratulations to the NSW Farmers Federation for organising the rally and to everyone who attended.
If you missed the rally, or if you were there, you won't want to miss this brilliant video of the day: