Don't just get mad. Get involved!
Can you help out or get involved in any way? Get in touch and let us know, or come to the next regular meeting and just say hello. Please make sure you join the email newsletter list too to keep up to date with what's going on. If you're on Facebook, join the group discussion.
Also – be sure to check out our list of practical actions you can take NOW.
Roll the sleeves up… We need you!
We're always looking for help with letter-boxing, assisting at regular market stalls, and lending a hand at film nights and other one-off events. Can you help with data processing? Maybe you have skills to offer our research team? The list goes on! There's plenty of ways you might be able to help – no matter where your skills and talents lie.
Regular markets stalls:
Wollongong Mall: Every Friday
Dapto: 4th Sunday of the month
Coledale: 4th Sunday of the month
Street stalls:
Princes Highway, Corrimal: Most Saturday mornings
… we're looking to start stalls in Fairy Meadow, Thirroul and Warrawong Market… and any other suburban shopping strips… can you help?! Please get in touch! Email us at outreach@stop-csg-illawarra.org.
Just give us a shout and let us know what you're up for! WE NEED YOU NOW!
Get the word out with a sign, t-shirt & bumper sticker!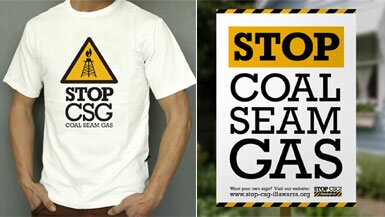 Say it loud, wear it proud! Getting a sign up on your house, a t-shirt on your chest and a sticker on your car bumper, letterbox, bins, etc. is an easy way to raise awareness. There are already hundreds of signs up around the Illawarra, but the more that pop up the more the issue will be raised. Please consider getting one up on your house or unit.
You can get hold of:
all-weather signs, 60cm high ($5)
T-shirts in various sizes ($20)
Stickers (they're free, but a small donation is appreciated to cover costs) – take a handful and get them on your neighbour's cars too!
…You can get them at any of our meetings or the stalls held in Wollongong Mall (every Friday), Dapto (4th Sunday of the month) or Coledale (4th Sunday of the month). We're launching a fully-fledged online store soon too, but in the meantime email us and we can organise delivery too.
Please consider a donation if you are able

We rely solely on donations from supporters to resource the campaign. Every month quite literally hundreds of hours of time are donated to making this campaign the success it has been so far. But some costs can't be avoided and leaflet printing and other expenses all add up. Any amount you can help with is appreciated. Our accounts are open and transparent, with details provided at each meeting.
There are several ways you can donate:
Secure online payment

Direct Deposit
or EFT

Cheque or money order

You can use your credit card and donate via PayPal (you don't need an existing PayPal account)…
Account: Stop CSG Illawarra
Bank: Commonwealth Bank
BSB: 062 624 Account: 10719827

To assist with identifying your donation, please email your name and any reference description.

Cheques and money orders can be made out to 'Stop CSG Illawarra' and posted to:

Stop CSG Illawarra,
PO Box 5022,
Wollongong,
NSW 2520